Wheelchair Accessibility at Temple Beth El

Temple Beth El moved into its current building in January 2007, with space that includes classrooms, library, rabbi's study, and flexible space for a sanctuary and social hall with a 400 seat capacity. The synagogue design is compact, all on one floor and overall it is wheelchair accessible. There are some accessibility difficulties, however, and this is especially true when the space is crowded.
Building Entrance
The main synagogue entrance is completely flat and barrier-free, with 5 handicapped parking spaces directly in front of the door. However, there is no automatic door opener and assistance is needed to open the doors.
Sanctuary
The Sanctuary, down a short hall from the entrance, is the main room where all services and many social activities are held. There is no designated wheelchair area in the Sanctuary. However, all the seating is moveable, and a wheelchair can be easily accommodated in several different parts of the room. There are a couple steps between the floor and the bimah. A ramp on the south side of the room allows wheelchairs to reach the bimah level.
Social Hall
The Social Hall is opposite the Sanctuary and has moveable walls that allow the room to be opened up and expanded. The kitchen is also off the Social Hall. Many activities are held in the Social Hall, and it is generally set up with round tables and chairs. When the walls are closed, there are 2 standard-size doorways from the main hallway into the room.Once inside, navigating this room in a wheelchair might require some assistance if the room is filled withfurniture or is crowded with people.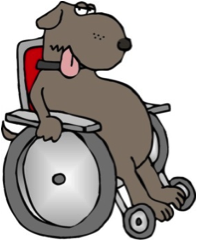 Library & Offices
There are several other rooms off the main hallway, including the Library and the Rabbi's Office. All have standard-size doorways and are filled with furniture, chairs, tables etc. making them difficult to navigate. (For example, the Library is quite cluttered, and the table is very large for the room. It is possible to enter the room, but aside from a small area near the door, the over-size table combined with chairs, piles of books, etc, make the rest of the room impassable.)
Bathrooms
Both the Women's and Men's bathrooms are off the main hallway, each behind a short wall. For both, there is a very sharp right-angle turn between the wall and the actual bathroom door. This is difficult to negotiate and generally requires having someone hold the door open. The bathrooms themselves are not large.
Men's Room – The men's room has a single urinal and a single large stall with grab bars which can accommodate a large chair or scooter.
Women's Room – There are three stalls in the women's room, the farthest from the door is the handicapped stall. It has grab bars but the space is small and cannot accommodate a large or motorized chair, scooter, or someone with a helper.
[Note to women –In terms of accessibility, the men's room stall is much more accommodating. If it is not busy or you are willing to stop the traffic, use this one!!!]
N. Rubin

9/2014
Illustration Credit: https://kennedysdisease.blogspot.com/2009/11/top-10-benefits-of-using-wheelchair.html