The Temple Response to Covid-19
Following the State Guidelines, Temple Beth-El will not hold in person services after  March 13-14, and all in person Temple sponsored events are canceled indefinitely.  Click here for the New Mexico Department of Health information.  We continue to gather for Friday night services and other meetings, albeit in the virtual space that technology has made possible, via Zoom and Facebook. 
We are all in this together – Stay safe – l'Chayim v'Shalom

High Holidays at Temple Beth El (on Zoom)
Shanah Tovah!

Join us at Temple Beth El as we celebrate the New Year on Zoom and Facebook with rabbinical student Sofia Zway
Rosh Hashanah
Friday, September 18   6:30 pm Erev Rosh Hashanah Service
Saturday, September 19   9:30 am Rosh Hashanah Family Service
10:15 am Rosh Hashanah Morning Service
11:20 am Torah Reading     Shofar service – just before noon
*times are approximate and there will be a short break between sections
Sunday September 20 – 10:15 am:  2nd day Rosh Hashanah Limmud (study session)
11 am:  Shofar service and Kiddush
Friday, September 25   6:30 pm Shabbat Shuvah Service
Saturday, September 26   10:15 am Shabbat Shuvah Service and Teshuvah Workshop
Yom Kippur
Sunday, September 27   8:00 PM Kol Nidrei
Monday, September 28   9:30 am Yom Kippur Family Service
        10:15 am Yom Kippur Morning Service
         11:30 am (approx.) Torah Service
         2:30 pm Jonah text study       
         5:45 pm Yizkor and Neilah
         7:15 pm Havdalah
Contact us at secretary@tbelc.org for more information or quick tutorial on Zoom
Happenings at Temple Beth El
Although our physical doors are presently closed, we continue to meet virtually. Our regular offerings of 
Friday Night Service – 6:30 PM via Zoom and live on Facebook
Saturday Morning Talmud Study – 9 AM via Zoom
Saturday Torah Study / Saturday Morning Service – See Adelante for schedule
Wednesday Tanakh Study – 10 AM via Zoom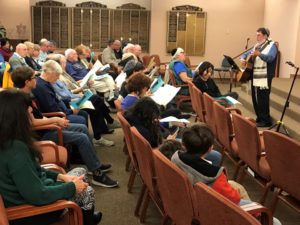 Contact us at secretary@tbelc.org for more information
Temple Beth El Home Page
"Temple Beth-El invites you to connect with us, with your sense of self, and with Judaism.  Join us on a rewarding and challenging pathway to a richer and more meaningful life."

Temple Beth-El serves the greater Las Cruces, New Mexico area. 
If you have any questions, please feel free to call us at 575-524-3380.