Farewell Rabbi Karol
Temple Beth-El wishes our Rabbi Emeritus Larry Karol and Rhonda Karol all the best in Rabbi's retirement, and are glad it's not yet completely good-bye. Thank you for all you've done for us.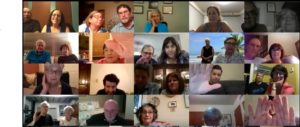 Every milestone in life gives us a new opportunity to take note of who we are and where we are at any given moment, and where we want to be in the future. Marking a special occasion in any way makes that moment KADOSH, sacred, reminding us that embodied in our celebrations is an admission that we can continue to learn and grow along our life's journey. May we continue together on this path of "becoming" in unity and hope!
from Rabbi Karol's, WORDS OF TORAH – Parashat Korach – June 26-27, 2020
The Temple Response to Covid-19
Following the State Guidelines, Temple Beth-El will not hold services after this weekend March 13-14, and all Temple sponsored events are canceled indefinitely.  Click here for the New Mexico Department of Health information.  We continue to gather for Friday night services and other meetings, albeit in the virtual space that technology has made possible, via Zoom and Facebook. 
We are all in this together – Stay safe – l'Chayim v'Shalom
Temple Beth El Home Page
"Temple Beth-El invites you to connect with us, with your sense of self, and with Judaism.  Join us on a rewarding and challenging pathway to a richer and more meaningful life."

Temple Beth-El serves the greater Las Cruces, New Mexico area. 
If you have any questions, please feel free to call us at 575-524-3380.