2023-2024 Temple Board of Trustees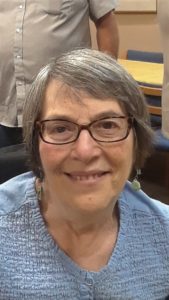 Nan Rubin, President
I moved to Las Cruces in October 2013 from New York City, where I lived for almost 25 years in Northern Manhattan. I was diagnosed with MS in 2005, and as my mobility declined, it became harder and harder for me to get by in the city, and my brother Ned (Rubin) and sister-in-law Francine (Feinberg) all moved here together.
I've been a community media activist for more than 35 years, built 2 community radio stations from scratch (KUVO in Denver and WAIF in Cincinnati) and was a founder of several national and international community media organizations. When I moved here, right away I got involved with Las Cruces Community Radio, and KTAL Radio 101.5 fm has successfully been on the air 2 years now. I love doing my weekly show Café con Leche interviewing interesting locals.
While producing the hugely popular 3-part radio series "The Hidden Jews of New Mexico" heard on NPR, I developed an avid interest in medieval Jewish history and started making papercuts.  I've been committed to Jewish social justice since junior high and was a Founder and long-term Board Member of Jews for Racial and Economic Justice in New York City.
I bring to the TBE Board years of experience in governance, fundraising, and budgeting, and serve as informal Parliamentarian.
Vice-President – Open Position
Joel Siegel, Treasurer
Joel Siegel is a retired engineer and Las Cruces resident since 2019. He stays active with golf, hiking, walking, and bicycling. Other interests include the performing
arts, all things mathematical / analytical.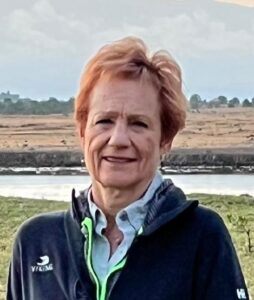 Donna Popkey – Secretary
Donna Popky and her husband Eric have been members of Temple Beth El since August 2021.  They moved here from Hilton Head Island, SC where they lived for twelve years having moved there from Harrisburg, Pa.   Donna and her husband are both originally from New York City.  Donna has been retired from Social Work since 2018 but was previously also an art educator.  Her leisure pursuits include golf, hiking, spending time in her art studio painting, and traveling.  Both she and her husband enjoy exploring the world and have been to all 7 continents, most recently Morocco, Tanzania and Kenya.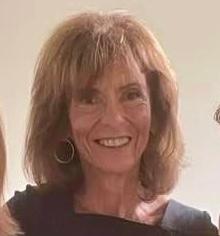 Deb Leyndyke
Debbie Leyndyke moved to Las Cruces  in October 2021 from Indianapolis. She was an educator for 35 years in  Indy, working with ENL learners in Kindergarten. Deb still works (intermittently) subbing in the Las Cruces Public Schools.  Her interests include running, hiking, swimming and taking care of her rescued greyhounds. She and her husband, Steve are very happy to be part of the TBE community.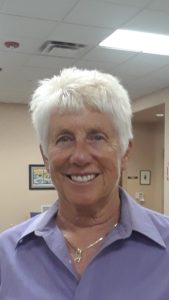 Lynn Zeemont
Fourteen years ago, Dave and I were on vacation here in Las Cruces when a phone call back to our son in New York indicated there was two feet of snow on the ground. We started looking; and with a University, two medical centers, Lowes & Home Depot, and most importantly a temple, we decided Las Cruces would be the place for us. For 25 years I had my own restoration company in the marble and granite industry servicing clients such as Rockefeller Center and the World Trade Center. I have been on the Sisterhood council for the last nine years and have served as Treasurer for 7 terms. During covid I have had several meetings with other Pacific District Sisterhoods to listen and share ideas and strategies. I have worked with Professor Kathleen Key of UTEP to facilitate the three presentations on fashion and Jewish artists made available to the congregation. During this past transition term on the board, I have come to appreciate the hard work and creativity of our other board members and many of our congregants. As head of the Finance committee, I am constantly reviewing our finances so we can navigate back to a rabbi led congregation. I have written the articles in the Adelante regarding finance and Sisterhood to keep our members informed and am committed to continue working on the board to complete our transition period and enhance our TBE community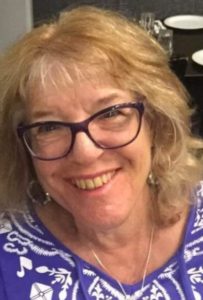 Martha Roditti
In 2004, I came to Las Cruces after living for 40 years in San Francisco. The major factors that lured me to Las Cruces were a faculty position at the School of Social Work at NMSU as the Field Director and the view of the Organ Mountains. After almost 35 years in academia, I retired from teaching in 2011 and am happily pursuing my favorite activity, sculpting in clay. I have two wonderful daughters, one in Hawaii and one in Connecticut, and 4 grandchildren. During those years in San Francisco, I directed a children's non-profit and was intensely involved in children's advocacy as well as teaching at San Francisco State University. Over my career in SF and Las Cruces, I had the privilege of writing and receiving many local and federal social work grants in child welfare and domestic violence.  I've been on the board of many non-profits and currently am on the board of Jardin de los Ninos, a child care center serving homeless and near homeless children. Temple Beth El has been part of my life for many years. I enjoy the High Holy Day services and have been a member of the Short Story Reading Group, the Women's Spirituality Group, and the Social Action Committee as well as volunteering at the Renaissance Faire and Jewish Food Festival. I believe Temple Beth El can play a vital role in Las Cruces, and I wish to be a part of its future evolution.
Sheri Spiegal
I moved to Las Cruces with my husband and two school-aged children in February 2020, just in time for the Temple Beth-El Purim Carnival and a couple of years of social distancing. In 2021 I became a teacher and Co-Principal of the Temple Beth-El Religious School. Thanks to our talented, dedicated staff and volunteers, the school has doubled in size, engaged new members, and solidified a meaningful and engaging curriculum. As a college student I studied at the Arava Institute of Environmental Studies at Kibbutz Ketura in southern Israel. That experience put me on a path to work toward sustainable agriculture in deserts, first through a masters and PhD at the University of California, Berkeley, and now as a rangeland scientist at the United States Department of Agriculture Jornada Experimental Range (come for a visit!). I'm originally from Lancaster, Pennsylvania where my parents were professional leaders at the Jewish Community Center and Reform synagogue. I've been involved with synagogues from San Francisco to Chapel Hill, and I'm proud to be part of the TBE community.
Diane Fleishman
I am honored to serve on Temple Beth-El's Board. I served on the Board for 4 years previously and on 3 other Temple boards. I have also served on state, regional and national professional boards, becoming President of each. I was Director of Internships, Service Learning, Community Service and Career Service at a University for 21 years. Prior to that I had various positions in human services. Much has changed since I was on the TBE board, there and in my life. As challenges have occurred, I have been impressed, and blessed, how the TBE Community has responded. As my Grandmother said: "we are small but mighty." There are many challenges left to face, but as a might community we can achieve a successful future. I grew up in my Temple youth group (I was president) and started teaching Sunday School as an aide in high school. Altogether I have about 30 years teaching and am happy to be teaching Sunday School again. I take "teach them to your children" very seriously. They are our future; nothing is better than teaching the beauty of living an ethical Jewish life.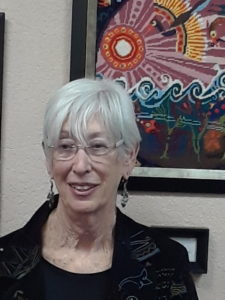 Dee Cook, Sisterhood Representative
I've been a temple member since 1990 when we moved here from Michigan.  My interests have given me the opportunity to work on the Gala, the Renaissance Faire the New Temple Committee and to coordinate the capital campaign for our current building with David Steinborn.  I have been President, Vice President, Secretary and unofficial Treasurer.  I am currently the Sisterhood representative to the board and on the Ways and Means committee.  The Temple has been here for me and I feel it is my responsibility to make sure that it's here for future generations.