2018-2019 Temple Board of Trustees

I was first elected to the Board of Trustees in May 2015 and have been Temple President since May 10, 2016. I currently serve on the Nominating Committee, with a focus on Leadership. I have served on the Executive Committee as Board Secretary, Chairperson of the Adult Education Committee, and Volunteer Coordinator for the Jewish Food and Folk Festival. I attended the Union for Reform Judaism's Scheidt Seminar for Temple Presidents and the URJ's 2017 Biennial in Boston. I was born and raised in Buffalo, New York, and have lived in NYC, Philadelphia, Los Angeles, and the San Francisco Bay Area before moving to Las Cruces, where my parents lived from 1975 until their passing. I am currently in my eighth year as a school administrator and have worked in education for 24 years. I have three children and three grandchildren and find great support and solace in my wonderful husband, Fred.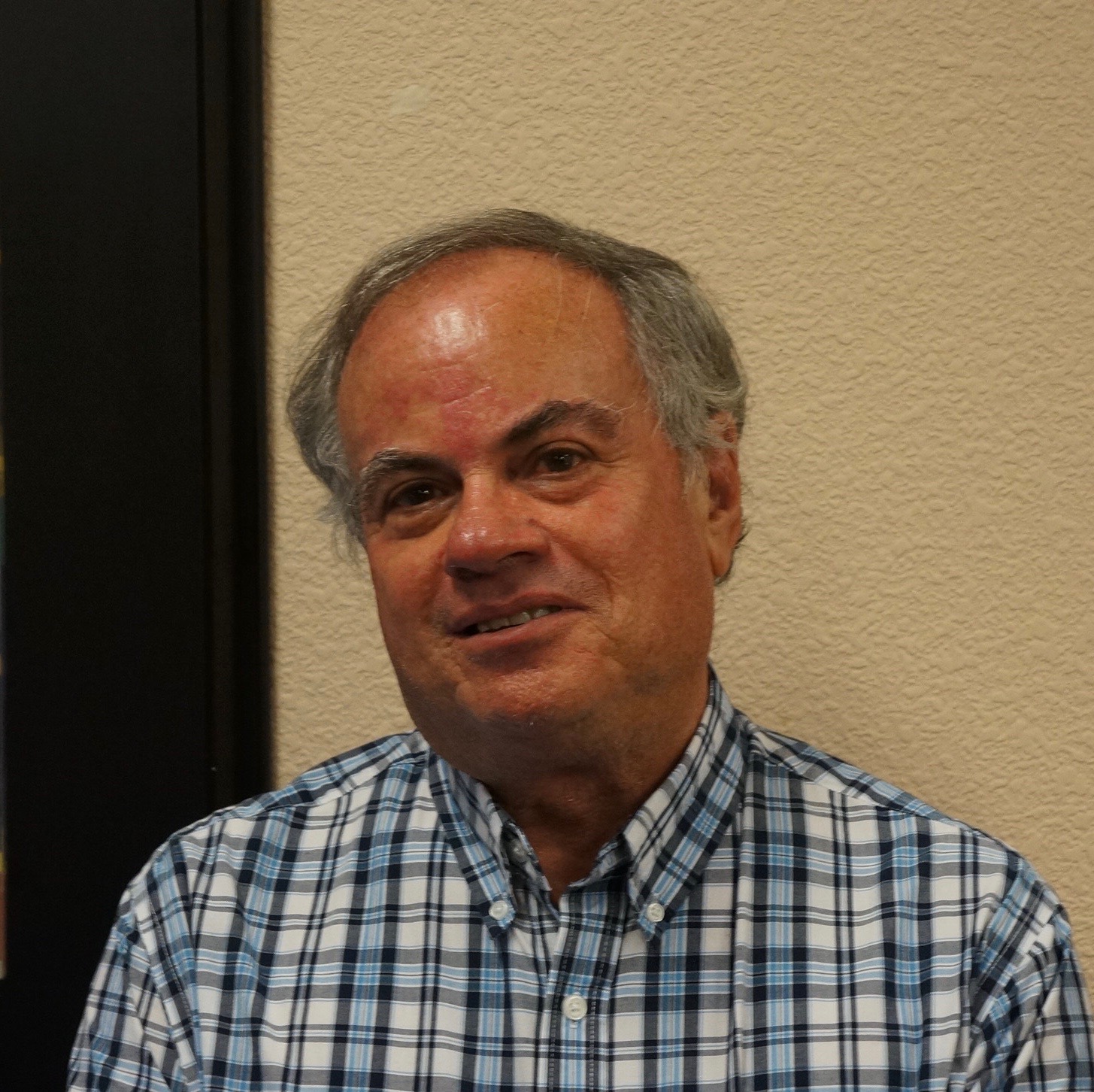 Jeff Lewis, Vice President
My service on the Board started in February 2016, and I have been Vice President for the past year and a half.  My other Temple duties include being Chairman of the Religious Practices Committee, member of the Social Action Committee, member of the Building and Grounds Committee, and member of and past President of the Mensch Club.  My wife Avis and I volunteer weekly at El Caldito Soup Kitchen and the Mesilla Valley Hospice.  I am from Milwaukee, Wisconsin, and graduated from the University of Wisconsin-Oshkosh with a Bachelor of Science in Secondary Education.  Avis and I retired in Las Cruces in 2012 after living in South Florida for 28 years.  We have been married for 32 years.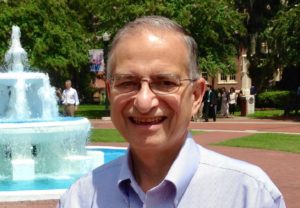 Jeff Brown, Secretary
I am a native of Chicago. Cherri and I moved to Las Cruces and joined the Temple in 1984. I serve as chair of the TBE History Committee and have previously served on the Board of Trustees, as a Temple officer and as a member of other committees. I retired from NMSU as an associate dean and emeritus History faculty member in 2016. I am very happy to provide service to the Temple.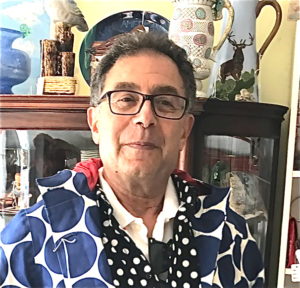 Michael Mandel, Treasurer
My parents were sharecroppers in the Catskills. I went to college and then I worked in New York doing publishing and advertising. I married Barbara Williamson while in New York, and we had a baby. Our little family moved to Albuquerque, so my wife could get a law degree. I was a stockbroker. From Albuquerque we moved here. I earned a Master's degree, and taught English and Theater. I've been on many boards in Las Cruces, including Children's Theater, Branigan Library Expansion, City Dance, City Cable Compliance Commission, Mesilla Valley Film Society, and International Mariachi Festival. I've been on the temple board off and on since 1998, and have been dues chair since 1998. I worked the Pastrami booth at the Renaissance Faire for about three years with Dan Tapper as the head, then he tricked me to take it over and I ran it for about 7-8 years. Now I help Dave Zeemont with it.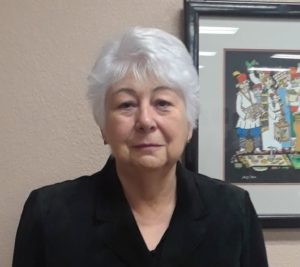 Cheryl Louden Decker
I was elected to the Board in May 2018 and consider it a privilege to represent the congregants of Temple Beth-El.  Being actively involved in events and committees allows me to meet many of you and I hope you will trust me with any concerns or questions you may have.  I currently serve as Co-Chair of the Ways and Means Committee,  plus I'm on the Sisterhood Council, the Social Action Committee, and I coordinate the food for the Wednesday Breakfast Club.  I enjoy gathering and displaying items for the JFFF Bazaar, and I have worked at the Renaissance Faire for the past three years.  I was born in Fort Wayne, Indiana, and my husband David and I moved here almost six years ago from West Chester, Ohio, a suburb of Cincinnati.  We consider Las Cruces and Temple Beth-El our forever homes.
Although I'm originally from the Boston area, my wife, Francine, and I moved here about five years ago from Milwaukee to retire.  It was there that we raised our daughter, Aubrey.  My sister Nan joined us from New York City soon after that.  I am a retired health and addiction psychologist.  Since arriving, I've become involved as a volunteer in a number of community projects:  I'm the chair of the Unified Prevention Coalition for Doña Ana County; a member of the Special Deputy Sheriff's Commission; and on the board of the Doña Ana County Coalition Against Bullying.  I'm a regular bicycle rider and spinner. I find myself much more involved here than at our larger synagogue in Milwaukee.  I am now in my second two-year term on the Board of Trustees of Temple Beth-El.  I have previously served as Vice President and am currently the chair of the Social Action/Adult Education committee of the Board.  I have approached my responsibilities in these positions with an open mind and open ears.  I want the synagogue to thrive, both as a vibrant institution and as an active and integral member of the community.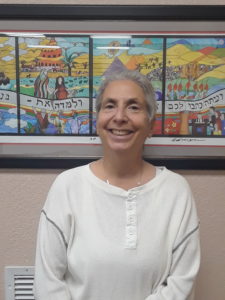 Ruth Rubin
I moved here in January of 2013 and joined Temple Beth-El (TBE) pretty soon after I got settled. I was born, raised, and educated in Philadelphia, Pa., eventually getting married (& divorced) in Lubbock, Texas. I got my MEd in Reading at Texas Tech University. I taught music at Congregation Shaareth Israel in Lubbock. After caring for my elderly parents in Philly, after they passed away, and after I "took care of business" I moved to Las Cruces, on the recommendation of Norm Osborne and Joy Goldbaum. I am now in the TBE choir, and I help the Rabbi with office matters, putting out candles, and doing the memorial lights. I love living here, and I love TBE. I participate regularly in Temple activities, and co-lead Shabbat services in the Rabbi's absence. I was elected to Temple Beth-El's Board of Trustees in May 2018.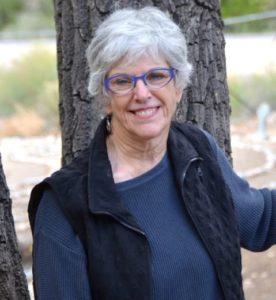 Joanne Turnbull
I grew up in Pittsburgh, and as an adult have lived in Michigan, North Carolina, New York City, Texas, and Maine.  I moved to Las Cruces in 2017 and joined the Temple that year.  I was elected to the board in 2018 for my first term and serve on the Ways & Means Committee. I am the mother of four children (Jennifer, Amanda, Megan, and Andrew) and grandmother of five (Jake, Oliver, Charlotte, Jordan and Nola).  I am Executive Director Emerita of the National Patient Safety Foundation and a life-long writer.
I am a Las Cruces native, leaving in 1991 to explore the world and obtain an excellent education from Temple University in PA and returned in 2004.  My husband Ronnie and I learned early that family and community are the most treasured things in life.  I have participated on many committees over the years in support of our Temple home from the new Member committee, Training Wheels, to Sisterhood Council, and Religious School Committee.
I live to learn, be open to new perspectives, appreciate the value others bring to every situation in life, and to use God's tremendous gift of giving me a voice and strength to use it diplomatically, kindly, patiently.
Our Temple family is dear to us.   I believe in developing strong foundations to support the future of our Temple home, by memorializing the hard work of our predecessors, to ensure the longevity of our Temple and ease administration for the future leaders.  I am on my second term on the Board. Thank you for the opportunity to continue to support our Temple home.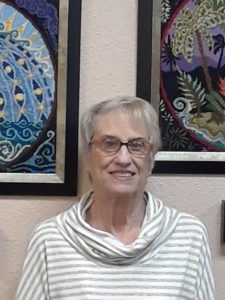 Diane Fleishman
We moved to Las Cruces from Pennsylvania in 2013, after ascertaining that there was a congregation to join. This is the ninth city we have lived in, so we knew that a Temple would be important to us. I have always been an active member and have been on four Temple boards. A graduate of West Chester University and Temple University, I worked at Millersville University for twenty years where I was Director of Experiential Learning and Career Management. I also have experience in business and training in human services. I am a former President of both the Pennsylvania and national Cooperative Education and Internship Association.  I was elected to the Temple Beth-El Board of Trustees in May 2015 and again in 2017.
I am a retired high school Technology teacher from Western New York. I
have worked as a draftsman, a contractor, and as a real estate investor.
My wife, Wendee, and I purchased our home five years ago and have been
snowbirds ever since. We enjoy temple life in both our home communities.
I was pleased to be able to construct the new sign in front of the building as well as the benches in the Biblical Garden. I am presently working on improving the auditory quality at the temple. I serve as the current secretary of the Mensch Club.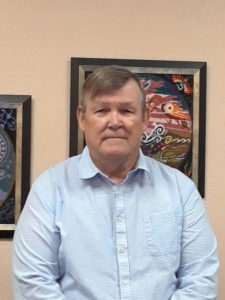 Luke Duddridge, Mensch Club Rep
I was born in Fitchburg, Massachusetts, in 1948. Fitchburg at the time was a major center of industry, and my father did his part while my mother was a stay-at-home mom. My parents were holiday Christians, and my sister, two brothers, and I were raised with the expectation that we would follow along. I loved the music, sang in the choir, but the message didn't take for me. I went to school in Massachusetts before wandering off to sail the seven seas. Well, that's not quite true. I didn't see much of the seven seas, I saw too much of the Pacific Ocean, and way too much of Viet Nam.
Religion was always a sore point for me within my family. I could not accept Christianity, but I didn't have a problem with G-d. Life experience, education, and friendship led me to Judaism. As you might expect, it wasn't that easy. Choosing to convert to Judaism contributed to family and career issues, and some confusion for my kids. It took many years, and a lot of work to complete the conversion process.
I've been a temple member since 1990 when we moved here from Michigan.  My interests have given me the opportunity to work on the Gala, the Renaissance Faire the New Temple Committee and to coordinate the capital campaign for our current building with David Steinborn.  I have been President, Vice President, Secretary and unofficial Treasurer.  I am currently the Sisterhood representative to the board and on the Ways and Means committee.  The Temple has been here for me and I feel it is my responsibility to make sure that it's here for future generations.
Dave Decker, Mensch Club President